being gentle with your teeth!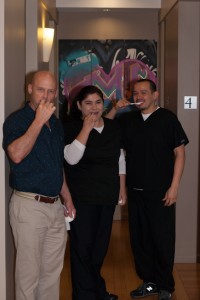 Q: Do you take/accept my insurance?
We work with all PPO or indemnity insurance plans. We will let you know what your estimated out of pocket share is for each visit, and we will let you know of limitations on your policy such as frequency of services, applicable deductibles, and annual maximums. It is important that you keep us apprised of any changes in your dental insurance benefits in order for us to serve you better.
Q: What if I have an HMO dental plan?
We welcome you as a patient and you will need to pay 100% out of pocket for all services provided.
Q: What plans are you a 'preferred provider ' or 'in network provider'?
Dr. Galper is in network as a Delta Dental Premiere Provider as well as a Delta PPO Provider. Dr. Martin is in network as a Delta Dental PPO Provider, MetLife PPO Provider and Aetna PPO Provider. We offer a high level of care, as acknowledged by these companies, using their input on our fees. If you have any questions about whether the doctors in our office are in your insurance network, please call Patty at (323) 933-1990.
Q: My insurance booklet indicates it will cover most of my dental services at 100%. Why do I sometimes get a bill from your office even after my insurance pays?
Many insurance plans cover a percentage of fees based on a pre-determined 'Table of Allowances". These fees have been configured by the insurance company rather than our actual fees. This is a way your employer can control costs and still offer you some level of dental insurance coverage.  Our office does not have access to the insurance company's 'Table of Allowances', We will give you our best estimate for your out of pocket share, and bill you for any amount due after your insurance pays its portion.
Q: If I have double insurance coverage, will all of my charges be covered at 100%?
There have been changes in "Coordination of Benefits" policies that your insurance companies may follow, and even though you have double coverage, you may still need to pay out of pocket for some of your treatment charges.
Q: Do you have any experience working with my insurance company?
Our office has worked successfully with many dental insurance plans to make sure our patients are able to maximize their dental benefits. Here is a partial list of some of the companies we have worked with:
Aetna
Assurant Life
CIGNA
Delta Dental
Dental Central
Humana
MetLife
Principal
Union Coverage
United Concordia
United Health
Q: My open enrollment period is coming up at work. What insurance company does this office recommend?
The best choice for you is one that pays the most benefits with the lowest out of pocket expenses for co-pays, deductibles and premiums. All group dental coverage is specifically designed and offered through your employer's relationship with the insurance company. Here are some specific items you should consider when comparing dental insurance plans "apples to apples":
Premium costs.
Maximum annual benefit amount.
Annual deductible.
Waiting periods for services provided
Frequency limitations on prophys (teeth cleanings), x-rays, fillings, and crowns.
Are fees covered based on Usual and Customary Rates (UCR) or are fees based on a "Table of Allowances"? You will typically be paying more out of pocket for fees paid based on a "Table of Allowance".
Missing tooth clause (Are benefits provided to replace teeth missing prior to coverage?)
Q: I am either self-employed or my employer does not offer coverage. What dental insurance does your office recommend for me as an individual?
Individual insurance policies are quite expensive or have other limitations, which most patients have found prohibitive. While we cannot recommend any specific plan to you, we will work with you carefully to estimate your dental expenses and continue to provide excellent care with very competitive fees.
Q: What options for payment for my fees for services do you offer?
We accept all major credit cards, and we are now offering CareCredit financing with interest free plans available for those who qualify. Our office will always be available to answer any specific questions you may have regarding your dental insurance coverage. We would like your experience with our office to be comfortable – let us know how we may be of service to you.